The Truth About Sanitary Napkins (A Toxicologist's Study)
You probably do not think about sanitary napkins often. You use them as you need to. You may even look for least expensive product on the market, so that you can save a few dollars on something you will toss out anyway. However, this could be a big problem for those who are being exposed to chemicals and toxins, as well as to a higher amount of bacteria that is necessary.
These napkins are necessary to use, unless you use other products including reusable cloth menstrual sanitary pads or other specialized devices. However, most people want to forget about what they are using and not have to worry about cleaning them. In either case, it is important to look for some specialized features in these napkins. Doing so may even help protect your health. What should you look for when it comes to napkins for menstruation?
Keep the following things in mind:
1. Ensure that the product has a cloth over layer.
The cloth outer layer will dry faster and therefore will help to keep the area dry, which reduces irritation and inflammation.
2. Do invest in super absorbency, but not because you do not want to change them frequently.
You should change these pads every few hours. Super absorbent products will pull more of the moisture and fluid away from the body, allowing the skin to dry effectively and faster.
3. Look for products that are free from toxins and chemicals.
Although you may not realize it, many of these products can irritate your skin, leaving you with itching, painfully irritated skin. It is also important to avoid products with dye, fragrance or medication in them.
New Antibacterial Negative Ions Products
Products you may have seen on the market are sanitary napkin and pads that have negative Ions in them. This means that the product has the ability to emit negative ions that will kill bacteria on contact. They are able to reduce the amount of bacteria present, to stop the potential infections that may be direct result of these bacteria. These products are not more expensive than other products on the market. However, they can provide your body with protection you need.
Be Consistent
If you hope to maintain overall health using these feminine hygiene tips, keep in mind that you have to be consistent. With sanitary napkins, use high quality on a regular basis. This will help reduce the chances of infections and irritations.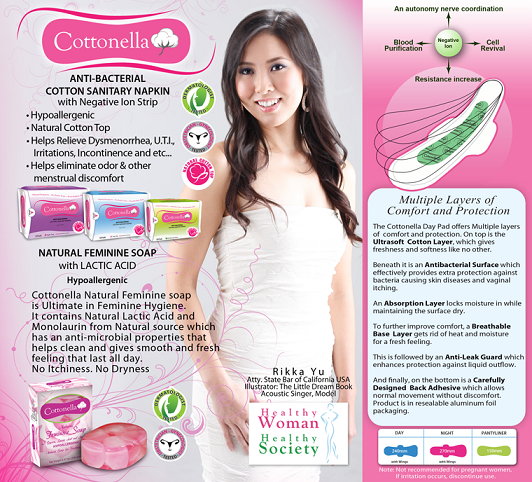 Why Cottonella is the answer to the Toxicologist's advice:
1. Cottonella antibacterial sanitary napkins have a natural cotton top layer, not synthetic cotton and not so called cottony feel but real natural cotton top. Because it's natural cotton, it reduces irritation and inflammation during contact with the most sensitive part of the body. Cotton, by its nature, is breathable and will dry faster and keep the area dry.
2. Cottonella antibacterial sanitary napkins have a layer of (SAP) super absorbent paper made from a natural by-product made in Japan. It can hold up to 140cc of fluid during heavy days and transform it to jelly form, allowing the skin to dry effectively and faster.
3. Cottonella antibacterial sanitary napkin is the only product in the market that is clinically tried and tested by dermatologists and obstetrician-gynaecologists. Its Hypoallergenic and fragrance free.
4. Cottonella antibacterial sanitary napkin is a multi-functional napkin, it contains chips that release negative ions and infrared, anti-bacterial and odor removing bamboo charcoal and magnetic elements with health care functions.